Gwinnett ARES Communications Trailer Equipment and Features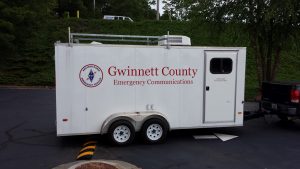 Trailer Specifications
Horton 8' x 16' V-Nose trailer with dual axles and electric brakes
Roof mounted HVAC and vent units
Side entry door to operating areas and dual rear doors for equipment storage area
Configured for main operating area, rear equipment storage and front management, meeting area
Power System
Honda 3000W Inverter generator that will run all radios, lights, battery chargers and cooling/heating systems (additional 3000 and 6500 watt generators available).
180 Ah 12 VDC triple battery system (to be expanded to 300 Ah)
Three bank multiprocessor-based battery charging system
12VDC power distribution system supplying power to all radio, network and LED lighting systems
Equipment
Yaesu FT-450R 160m-6m 100W HF Transceiver with LDG YT-100 Tuner
Icom ID-5100 VHF/UHF Analog/D-Star Transceiver
Yaesu FTM-400DR VHF/UHF/System Fusion Transceiver
Motorola XPR-4550 UHF DMR Transceiver
Yaesu FT-8800 VHF/UHF Analog Transceiver
Icom ID-1 1.2Ghz Transceiver with High Speed Data
Kenwood D710 VHF/UHF Analog Transceiver with APRS
Kantronics KPC-3+ TNC
Linksys Router configured as a hotspot
Linksys Router configured as a client to connect to a hotspot.
Dual SignaLink USB soundcard interfaces for digital modes
Dual Dell i7 Windows 10 computers each with Dual 22″ LED displays configured with software to access Winlink nodes, FLDIGI stations , D-RATS and packet BBSs.
Antennas
Roof grid system featuring three VHF/UHF, 6 meter, 1.2 GHz, 900 MHz antennas with spare antenna positions
Antenna patch panel for flexible configuration
Expandable stacking mast system for HF and vertical antennas to 30' height
Sectional Dipole for HF
End Fed Halfwave 80m-10m 1Kw
Equipment Usage
HF Transceivers are used for contacting stations for local, statewide, national and international using an NVIS antenna
VHF/UHF transceivers are used for accessing local repeaters or contacting stations over simplex. They can be used with the KPC-3+ to access the Gwinnett digipeater network, Winlink RMS nodes and the Gwinnett ARES packet BBS
The ID-1 would be used to connect to the internet through a D-Star gateway using the high speed data mode or to connect point-to-point with another ID-1.
An Ethernet, telephone and video network runs throughout the vehicle with ports accessible on the outside for additional equipment or connection to other networks.